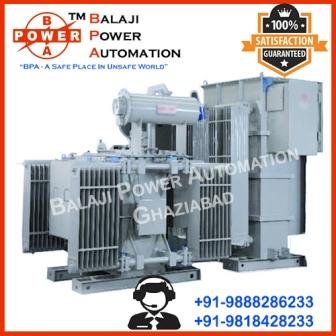 Balaji Power Automation Make Copper wound HT Automatic Voltage Stabilizer (HT AVR) suitable for indoor/outdoor installation. Copper wound HT AVR system is a revolutionary landmark in the industry when it comes to voltage regulation and stabilization.
Even after the installation of standard distribution transformer the problem of low/high voltage on the LT loss of a plant. The standard off – circuit tapping of transformers can correct limited voltage variation. And cannot regulate the voltage while in 'on Load' conditions.
We have developed a state of the art technology HT Automatic voltage regulator that operates on load, sleeplessly. Also give gives stabilized voltage on the HT side.
The fluctuating voltage from Grid is initially control by the HT AVR. And then fed to the transformer resulting in the constant H.T. Output within +/- 1% accuracy and the biggest advantage being its robust design; Lesser losses & more efficiency make the distribution transformer to utilize up to 100% capacity.
Features:
Provides accurate continuous duty cycle
Updates and checks voltage automatically and at regular intervals
Designed accurately to save space
Low power is consume
Gives longer lifespan
Facilitates easy maintenance
Verified at every stage of production by the quality controllers
Advantages of HT Automatic Voltage Stabilizer:
Utilization of the Distribution Transformer is to its full capacity as the H.T. AVR shares the load of the Transformer and the connected load.
Losses are less as the incoming voltage either low or high is correct at the initial stage only.
Fluctuations in the H.T. Supply are not passes on to the Distribution Transformer.
Installation Cost is less in comparison to L.T. Automatic Servo Voltage Stabilizer, for higher ratings.
Single Unit of H.T. Automatic Servo Voltage Stabilizer can be connect to more than one Distribution Transformer.
Economical for huge capacities like 2500 KVA and above or for wide voltage fluctuation range (eg. 8 KV – 13 KV, 28 KV – 36 KV etc.)
It can Also place anywhere on the feeder line.
Motor fitting is external, so any change of the motor or motor shaft can be easily done without opening the top cover.
Output Voltage of H.T. AVR remains constant at any connected Load and up to full load.
Response time for Voltage correction is 20 micro seconds.