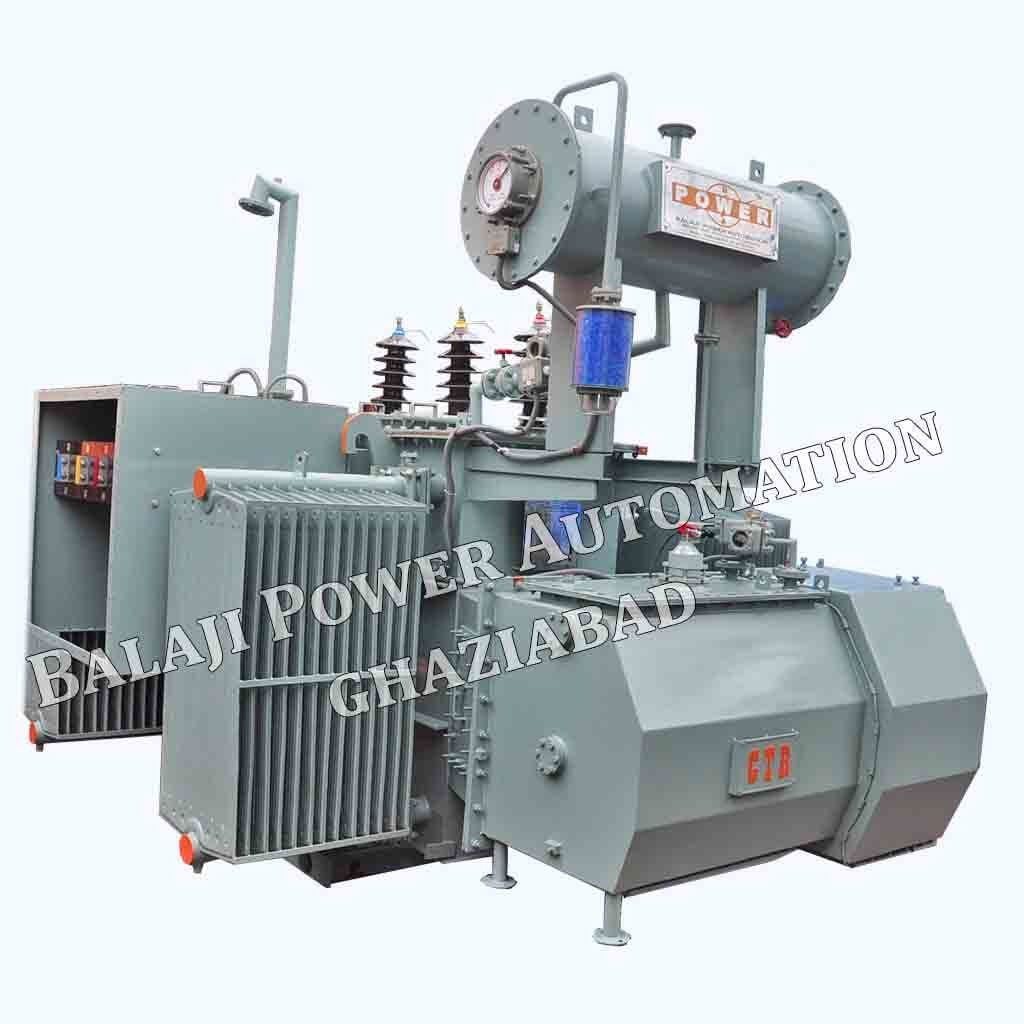 Leading Power Transformer Manufacturer
In terms of power transformer, Balaji Power Automation is considered to be the best manufacturer of power transformers. With more than two decades of experience, and after completing to many power transformers, we have won a satisfied customer base. 
By providing quality certified transformers, Balaji Power Automation has performed well in all aspects and successfully met customer needs. Our strong marketing and service network enables them to reach more people and provide them with the best quality service. We have expert team members and the latest technology to help you achieve the best results. We always try our best to meet the requirements of your real customers.
Thus, we are the leading Power transformer manufacturer in India
What is Power Transformer ?
A power transformer is a static device which used for transforming power from one circuit to another without changing frequency.This is a very basic definition of transformer.
The Power Transformer is used on transmission lines for transmission and distribution of relatively large quantities of energy.
Since, there is no moving or rotating part, that's why transformer is a called as static device. Transformers operates on an AC supply. A transformer works on the principle of mutual induction.
A power transformer is generally used for power generation and transmission and distribution Sub-Station.
Transformer Design
A power transformer contain 6 main components:
Core
Winding
Bushings
Tap Changer
Tank
Cooling
Read more for transformer design…
Power Transformer Manufacturer
Balaji Power Automation is considered to be one of the leading power transformer manufacturers in Ghaziabad, India and around the world. With a specially trained power transformer team composed of engineers, employees and workers, it can manufacture 11 KV, 22 kV,  33 kV or 66 KV power transformers according to customer requirements, with a maximum rated power of 10 MVA.
All transformers are made of imported CRGO silicon steel annealed lamination and Electrolytic grade copper  In addition, all windings have complete ampere-turn balance, and provide enough cooling pipes and radiators to cope with IS 6600 overload. 
They can produce various transformers for various products in specific industries. Through the use of new IS: 1180 transformer manufacturing process modification and the use of high-quality raw materials, such as high-quality imported CRGO, CC grade conductors, IS: 335 transformer oil and high-quality workmanship, the products provided by Indian power transformer manufacturers have unparalleled properties .
Fittings & Accessories
We provide following fittings and accessories with all transformers:
Silicagel Breather
Magnetic Oil-level gauge (MOG)
Earthing terminals/ Neutral terminals
Conservator with drain plug
Dial Type Thermometer
Explosion vent with equalizer pipe
Forced Fan Cooling
Pulling eyes/Roller arrangement/Skid base
Oil Temperature Indicator (OTI)
Winding Temperature Indicators (WTI)
Marshaling Box
Arcing Horns
Thermometer Pocket with Dial Type Thermometer
OLTC & RTCC Panel with AVR
Bi-directional Rollers
Radiator Valves
Technical Specification
| | |
| --- | --- |
| Brand | Balaji Power Automation |
| Rating | Upto 10 MVA |
| Applicable Standards | IS, IEC, BIS etc. |
| Cooling | ONAN, ONAF |
| Insulating Fluid | Mineral Oil To Specification |
| Frequency | 50 Hz, 60 Hz |
| Primary Voltage | 11KV/ 22 KV/ 33 KV etc. |
| Winding Material | Electrolytic Copper |
| Tap Changer | On Load , Off Circuit |
| Impedance | Upto 8.35%,  tolerance  +10% |
| Insulation | Class 'B' better than 'A' |
Why Choose Us As Power Transformer Manufacturer
For Balaji Power Automation, customer satisfaction is their company's main goal to become a trusted power transformer manufacturer in India. From a wide variety to after-sales service, they always strive to provide customers with the best service. They have a well-trained engineering team composed of design, production and testing experts, using advanced SAP or ERP technology to bring you the best results. 
This technology greatly contributes to improving quality and capabilities. They have passed the BIS certification, so the quality provided is perfect, and regular quality control inspections are also carried out to help them provide you with the best service.
Use Balaji Power Automation Power transformer manufacturers in world for Best Safety And Long Life
The quality of the transformers we provide is always up to standard, because all transformers are manufactured under the trademark. Due to long service life and safety reasons, we are designed with a very safe flux density and can work perfectly. In addition, according to customer requirements,a load bypass switch [OCTC] or a load bypass switch [OLTC] is provided to the power transformer. Our transformers have undergone various tests to make them the best and perfect way to use them. The quality of the transformers they provide to customers makes the company the best manufacturer of powertransformers. In addition, they also follow high technical standards and strict quality control to maintain quality control.
Things To Know Before Selecting A Transformer Manufacturer
We only need your requirements. Our well-trained team will deliver the best quality transformers on time. To purchase conventional transformers or brand-name transformers, you must choose a service provider to ensure the correct operation of the product. However, considering the large number of possible options, choosing the right option can be difficult.
Ongoing demand requires operators to ensure that transformers can be used, because you know that transformer manufacturers in India need to remove, pump water and even power up their factories.
 Factors to consider before choosing a transformer manufacturer.
1. Reputation and price dedication of manufacturers
2. The capacity of the commodity
3. Capacity of output
4. Aid for local and regional infrastructure
5. Care Insurance