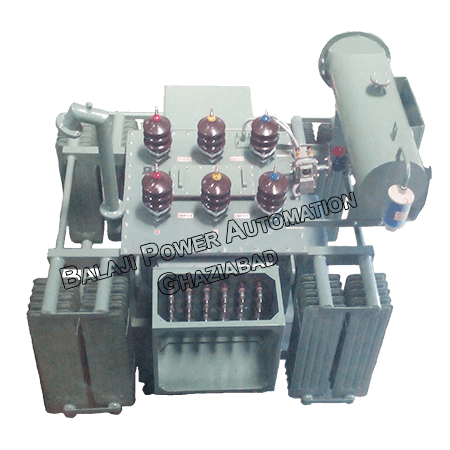 HT AVR (HT Automatic Voltage Regulator)
Balaji Power Automation manufacture the best quality HT AVR (HT Automatic Voltage Regulators) and Transformer with Built-in HT-AVR. Thus, we are the best HT AVR manufacturer in India
RANGE : Upto 10,000 KVA in 11 & 33 KV Class.
Features:
It Saves Electricity due to high efficiency.
It is most liked among the customers because of low maintenance cost.
Compact Design (It takes less space)
Installation cost is least
Fast Response and low Dispersion.
Minimum Power Loss
Low Input ranges can be stabilized in High Ratings
What is High Tension Automatic Voltage Regulator?
High Tension Automatic Voltage Regulator or built-in AVR is the high tension stabilizers whose job is to protect the electrical and electronic devices and appliances from getting damaged due to fluctuating voltage and furthermore to preserve vitality by providing a steady and persistent information voltage.
We at Balaji Power Automation, manufacture a wide range of HT-Automatic Voltage Regulators.

H.T. AVR Or HT Automatic Voltage Stabilizer/Regulator are Same?
Yes, both are the same H.T. Automatic Voltage stabilizer. Basically, It is also known as HT Servo Voltage Stabilizer.
AVR Transformer full form: Automatic Voltage Regulator Transformer
The Equipment is Having the regulator part in the HT servo. That's Why it also knows as HT Automatic voltage regulator.
Why we need HT AVR?
Basically, Distribution transformer Steps-Down the voltage from H.T. to L.T. However, it cannot take care of the fluctuating voltage and most of the time and at most of the sites.
It has been understood that the issue of fluctuating voltage remains, resulting in unsuitable function of electrical systems. H.T. Transformer with Built-In H.T. Automatic Voltage Regulator provides total solutions for voltage fluctuation and stabilization.
The unit is basically a combination of H.T. Automatic Voltage Stabilizer and standard H.T. Distribution Transformer working in conjunction. These are available up to 10,000 KVA in 11 KV and 33 KV Class.
Standard transformers can accurate limited voltage variations and can't regulate the voltage in 'on load' condition. The only smart way to tackle this problem is by installing a highly efficient Balaji Power Automation H.T. Transformer with Built-In H.T. Automatic Voltage Stabilizer.
These systems can be used in various industrial as well as commercial applications.
Specification of H.T. A.V.R.:
| | |
| --- | --- |
| Brand | Balaji Power Automation |
| Rating | Upto 10,000 KVA |
| Voltage Class | 8-12 kv, 9-12 kv, 9.5-12 kv, 28-35 kv |
| Output Regulation | ±1% or ± 0.5% |
| Cooling | Natural Oil Cooled |
| Acceptable Frequency | 47-53 Hz |
| Correction Speed | 6-18 v per second |
| Response Time | 10 ms |
| Efficiency | More than 98% |
| Additional Facility | Manual Operation |
| Waveform Distortion | Nil |
| Duty Cycle | 24 hours continuous on 100% load |
| Control Circuit | Microcontroller based, plug-in card for on-line serviceability |
Advantage of H.T. AVR/ Built-in HT AVR
HT-AVR supplies rated Stabilized Voltage to the Transformer. Thereby the utilization of the transformer will be up to full rated capacity and is protected from High/Low voltage fluctuations
Low losses as voltage fluctuation is removed from the system
Single unit of HT-AVR can be connected to multiple Distribution Transformers
Reduction in Breakdown of Electrical Equipment
Power Saving (Reduction in Power Bills)
Improvement in power factor and reduction in MDI
Better efficiency in plant
Being categorized as a power-saving device, the payback period for the cost of our HT-AVR is from 12-15 months depending upon the input voltage and no. of working hours of the plant
Application:
HT-AVR or Transformers with Built-in HT-AVR are effectively required at all such places. Where controlled and constant voltage is one of the most important requirements.
And are suitable where breakdown due to voltage fluctuation results in heavy financial losses such as Hospitals, Laboratories, Various Life Saving & Testing Equipment. Pharmaceuticals, Research Institutes, Defense, Telecommunications, Air Conditioning, Data Processing, Electronics based Industries, Educational Institutes and Food Processing Units.
Paper plants, Footwear and Leather Industries, Cement Plants, Textile Industries, Moulding Units, Hotels, Farm Houses, Offices and Residences Housing Apartments, and so on.