BIS ISI Marked Transformer as per IS:1180 Part 1(2014)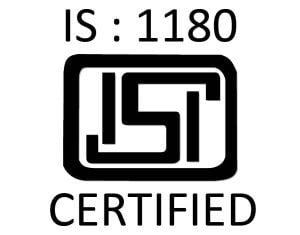 At Balaji Power Automation, every single transformer is designed according to the individual customer requirement such as Voltage, Power System Parameters, Location Geography, System Disturbance Level and many more including National / International standards with a vision of bringing reliable quality power safely to the end consumer.
Balaji Power Automation is a BIS ISI IS:1180 (Part 1) Certified Transformer Manufacturer as per latest mandatory Quality Control Order for Distribution Transformers. Our License no. is CM/L 8700127016.
Special features of Oil type BIS ISI Marked Transformer include:
Balaji Power Automation Transformers are tailor made to each & every requirement of customers conforming to National & international Standards.
Transformer is designed by experienced expert engineers using most modern software programmes.
The process blueprints for each transformer is prepared advanced technologies like AutoCAD & ProE to ensure adherence to the design parameters.
Highly skilled Transformer Production wing with state-of-the-art manufacturing facilities.
Transformer losses are minimized by the usage of high quality & high grade CRGO laminations & Copper Conductors like PCC,CTC or Bunched PCC.
Step lap core with multiple sheets per bag is used in the core lamination jointing.
Reduced stray loss & transformer noise by means of proper clamping using lean structures.
Transformer windings are made with new state of the art conductors with high quality paper insulation manufactured under stringent quality norms.
Transformer oil is directed to the winding to ensure efficient heat dissipation.
Electrical stress analysis of coil assembly & insulation assembly design is done with advanced software.
Transformers are designed & manufactured for overloading during service span as per relevant standards.
Uniform and rigid clamping of the coil is ensured for withstanding forces during short circuits as well as in transportation & service.
Efficient cooler design to operate under maximum stringent service conditions.
Specially designed tanks using 3D software and manufactured with best quality steel & modern welding techniques are used to reduce oil volume and to withstand pressure during fault conditions.
Tank stray losses are much reduced by CRGO & copper Shields.
High Quality reliable Transformers are manufactured under stringent quality checks at all stages.
Incoming material quality is ensured by stringent vendor approval procedures.
In all, we offer a reliable &smart transformer for your electrical grid.
Features:
Design conforms to IS:1180 (Part 1) 2014, IS: 2026, BS 171, IEC 76 and other relevant standards.
Latest manufacturing techniques to ensure cost effectiveness and reliability.
Designed for 25 years of trouble – free performance.
Very low power loss and low noise.
Optimum utilization of active materials for sleek design.
Withstands electrical impulses, thermal and dynamic stresses.
Optional Accessories:
Magnetic Liquid Level Gauge
Oil Temperature Gauge
Pressure/Vacuum Gauge
On-Load Tap Changer with RTCC Panel
Current Transformers
Contacts on Standard Gauges
Pressure Relief Device (standard over 3 MVA)
Winding Temperature Gauge
Sudden Pressure Rise Relay
Forced Air Cooling
Lightning Arresters
Load Break and Multi-Voltage Switches
Stainless Steel Construction
Digital Transformer Monitor
Class 1 Div II/Marine/Corrosive Environments
High Altitude
Seismic Conditions and Anchoring
Things to consider while buying transformers
Purpose of the transformers and which type of transformer suits your requirement
Under which voltage you are operating (input and output voltage)
BIS ISI Marked transformer manufacturer
Which environment you are using it and it meets the approval for specific requirement
How many phases you require
Balaji Power Automation being BIS ISI Marked Transformer manufacturer provides customise transformers to serve client requirement. As we know the importance of assets for the industry, we provide a lifetime guarantee on losses.
Check our other post at BIS 1180 licensed transformer manufacturer